LomiLomi:
Hawaiian Temple Style Bodywork Training
The Workshop
The goal of this training is to reinvigorate your already existing healing practice, provide new techniques to save hand fatigue from traditional massage modalities, deepen your connection with your client as well as with yourself. You will journey to the heart of the universe, and come to remember who you are in the fullness of your being.
Workshop participants learn the unique body mechanic and techniques which support both facilitator and receiver. Participants are guided in the use of focus along with intention and presence to bring a deeper quality of nurturing to the session.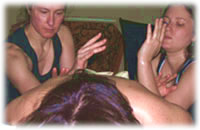 Honoring the body as a temple of the soul, this bodywork is a transformative experience to free the body of long held stress patterns, using deep and gentle rhythmic strokes of the facilitator's forearms, connecting the giver and receiver in a beautiful "dance." These strokes create an immense outpouring of energy, and help to lull you into a deep meditative state of bliss. The focus is on letting go, quieting the mind of its chatter, and allowing yourself to receive the deep nurturing of sacred touch and unconditional love. The results for both giver and receiver are often transformational!
The Movement and Technique
This particular style of LomiLomi uses a combination of long, gentle, and rhythmic strokes of the forearms along with breath, Tai Chi-like movements and specialized music. You will learn how to tune into the rhythms and sounds of the body and then navigate within the discovered flow to support the uniqueness of each recipient and session.